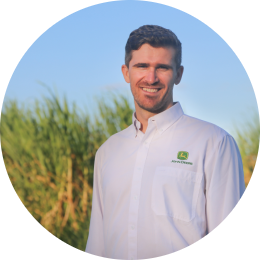 Benji Blevin
John Deere Precision Ag Product Manager
---
Benji grew up on a tobacco and rose farm in Zimbabwe. He immigrated to Queensland with his family in 2003, and after spending some time in the Australian Defence Force, went on to complete a Bachelor of Mechanical Engineering at the University of Queensland. In 2018, his passion for precision agriculture led him to complete a Graduate Certificate in Precision Agriculture from the University of New England.
Benji joined John Deere in 2016 and has spent the last 5 years supporting John Deere customers through various field-based, precision ag focused roles in Western Australia and Queensland. In Benji's current role as Precision Ag Manager, he is responsible for monitoring and identifying precision ag trends Australia and New Zealand, as well as bringing new products to the market.
Benji will be drawing on his experience in Precision Ag to present some practical solutions that are currently available to growers to achieve positive economic and sustainability outcomes.
Precision Ag Solutions in Horticulture and Tree Crops