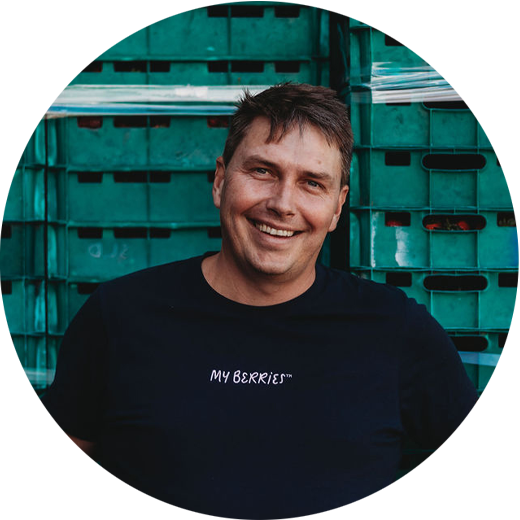 Stuart McGruddy
Hort Innovation-sponsored Churchill Fellow, 2020 (My Berries)
---
Stuart was awarded a Hort Innovation-sponsored Churchill Fellowship in 2020 to build on the knowledge, experience and technology used in the freezing of whole soft berry fruits. The pandemic has delayed Stuart's travel, which will include Chile, France, Serbia and the United States.
A second-generation berry grower, Stuart started his career as an executive chef and set up various restaurants and production kitchens. He spent time in London where he worked hard, travelled and tasted some amazing foods from around the world.
In 2012, Stuart returned home to Queensland with his partner Allison to raise their family and start their own berry business, My Berries.
He's passionate about local farmers, food provenance and high quality ingredients that offer value for money. He doesn't like food waste, and has always been challenged to find a home for every berry grown on the family farm.
Stuart's cautious about what his children eat – only wanting them to eat safe, locally grown produce. My Berries is fierce in aligning with growers who care about this, and the McGruddys choose to support local businesses.
Stuart's family grows berries in the Moreton Bay and Granite Belt, and My Berries' ever-expanding network of Australian growers ranges from Bundaberg to Byron Bay and beyond.
Learn globally, inspire locally with a Hort Innovation sponsored Churchill Fellowship