Have you got questions about Hort Connections 2024 in Melbourne?
To help you plan for Hort Connections 2024, we've compiled our answers to your most frequently asked questions about the event.
If you have questions which we haven't answered below, please email info@hortconnections.com.au to speak to a member of the Hort Connections Team.
---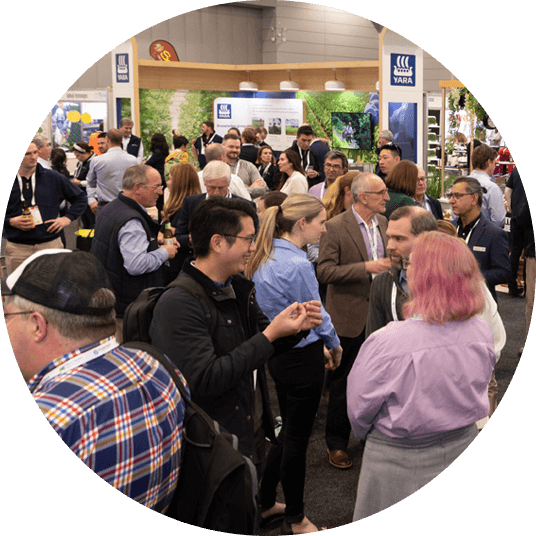 Is it better to register prior to the event?
Yes, it is better to register prior to entering the Melbourne Convention and Exhibition Centre. Event passes are the same price, but you will only be able to skip the lines and complete your express check-in to collect your delegate badge on-site if you purchase online.
When and where is Hort Connections 2024?
Hort Connections will be held from the 3rd to the 5th of June 2024 at the Melbourne Convention and Exhibition Centre.
What should I wear to the conference?
When attending Hort Connections 2024, we ask that you dress in business-casual or business attire throughout all speaker sessions and the trade show. There are catered functions, such as the Hort Connections Gala Dinner, which are cocktail attire.
What's the latest on COVID-19?



Please stay at home if you are feeling unwell, have any symptoms or have recently been in an at-risk situation. Currently, the Victorian Government has no restrictions around indoor gatherings, but we encourage you sanitise your hands regularly and socially distance where possible. You may access Victoria's current restrictions for COVID-19 here.
What is the cost to attend Hort Connections 2024?


The cost of attending Hort Connections 2024 will change depending on the number of days you attend, what additional events you attend and how early you book. You may view all Hort Connections registration options here closer to the event.
I have accessibility needs/dietary requirements; can you accommodate me?
We always strive to be as accommodating where possible. Please email info@hortconnections.com.au for any allergies, or accessibility needs. We will work with the Convention Centre and accommodation providers to ensure we can cater for you where possible.
How do I access the event agenda?
Hort Connections 2024 will be an action-packed three days. The program has yet to be announced, please check back closer to the event!
If you are a horticulture industry member, farmer, supply chain member or just someone with a keen interest in being introduced to all things horticulture, Hort Connections is an event you should and can attend!
Where can I see a list of exhibitors for the event?
After Hort Connections 2023, the largest exhibition in event history, we have already had a huge amount of interest in the 2024 Trade Show. We will be posting a full list of exhibitors and a floorplan closer to the event.
Who is speaking at the event?


We are preparing to open speaker applications for 2024. Once we begin to confirm speakers, you may view a full list of exciting event speakers here.
What should I do if I've been asked to purchase a delegate list?
Enquiries of this nature should be treated as a scam and disregarded. For large events such as Hort Connections, illegitimate companies try to sell fake lists to attendees. Attendee data is secured through state-of-the-art event management software.
Where do I collect my delegate registration badge?
You collect your delegate badge at the Hort Connections self check-in kiosks. These will be located next to the Information Desk outside the Exhibition Halls. To streamline badge printing, you will be sent a QR code which can be used at the self check-in kiosks to scan and print out your Delegate badge. This QR Code will also be available in the Delegate App.
Can I buy tickets on the day?


Tickets will be offered on-site at the event, but you may face lines or a long wait due to high demand for staff at the Registration Desk. We highly encourage all event delegates to register prior to the event here.
Hort Connections is a catered event – there will be food offered during the Trade Show. There are also additional events such as the Perfection Fresh Breakfast and the Hort Connections Gala Dinner which will include full food service.
Will there be maps available at Hort Connections 2024?
Event maps will be offered on-site, as well as being available within the Hort Connections event app. The Event App will also feature a wayfinding feature, which will direct delegates between rooms and exhibition booths.
Is there discounted accommodation available?


Once registrations have opened, you may book your accommodation whilst registering to attend the event. Hort Connections will be negotiating discounted rates at a number of convenient hotels around the Convention Centre.
Where is the best place to book accommodation?


We recommend booking accommodation around the Melbourne Convention and Exhibition Centre to increase ease of accessing the conference. Please wait until registrations open to ensure you are taking advantage of discounted accommodation rates.
What happens if third parties contact me about accommodation bookings?
All accommodation bookings should either be done through the Hort Connections website or directly with the hotels or reputable website such as booking.com. Any other services providers are not authorised by Hort Connections and should be treated as spam.
Is there any form of transport from my accommodation to the event?
All attendees will be responsible for their own airport transfers and transfers to and from their accommodation to the Melbourne Convention and Exhibition Centre.
How do I download and log into the app?


The Hort Connections 2024 delegate app is scheduled to be launched in May 2024. Please wait until closer to this date for instructions.
What information will be accessible through the app?


The app will allow you to access an exhibitor floor plan, the program/event timeline, delegate connect feature, speaker information, exhibitor profiles, and sponsor profiles. The app is the main source of information at the event, it will send alerts for key information and include opportunities to win prizes. All speaker presentations will be available via the app post event.
Will there be someone documenting Hort Connections 2024?
There will be an event videographer, and photographer for the event, and sessions will be recorded.
Can we have our own photos or videos taken at the event?


The event photographer and videographer are contracted to take general photos of the conference, they are not obliged to take personal captures. For personal pictures or videos, please use your own devices or cameras.
How can I be sure that someone contacting me is legitimate or not?
We will send all communications regarding Hort Connections including accommodation from @ausveg.com.au or @hortconnections.com.au email addresses. If you receive communications from another email address, please disregard it. If you require any assistance or are unsure about information, please reach out to info@hortconnections.com.au.