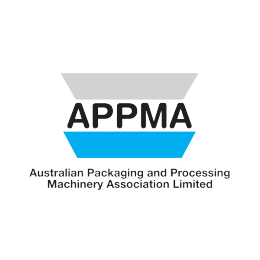 APPMA
---
The Australian Packaging and Processing Machinery Association (APPMA) was established in 1983 to promote, integrate and foster participation and development at all levels of the packaging and processing machinery industry in Australia.
Incorporated in 1990 the APPMA provides and facilitates a range of industry promotion, marketing, educational and networking forums and support services that enable manufacturers, distributors and importers of packaging and processing machinery to promote their businesses, share industry data and maintain knowledge of the latest industry trends and innovations.
The APPMA members include companies that supply and service machinery across a number of industries including food, beverage, dairy, meat, poultry, seafood, confectionery, bakery and fresh produce.
The APPMA is the proud owner of AUSPACK, Oceania's premier and Australia's largest packaging and processing machinery and materials exhibition. The biennial AUSPACK alternates between Melbourne and Sydney and is part of Packaging and Processing Week which also incorporates:-
The APPMA Business and Industry Conference
APPMA Awards of Excellence to recognise and celebrate achievements within the industry
A number of member and industry events including a Gala dinner, networking drinks and topical breakfast sessions
Alongside directly supporting our members and the industry the APPMA also participates in actioning social and environmental challenges including:-
Contributions, sponsoring and promoting the Australian food-rescue organisation Foodbank and Ozharvest
Participating in the Fight Food Waste CRC which includes a 10-year commitment of financial and in-kind support of research projects with a cumulative objective of delivering a 50% reduction in food waste
Providing educational sponsorships
---
VISIT WEBSITE