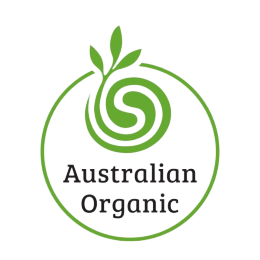 Australian Organic
---
Who is Australian Organic Ltd?
Australian Organic Limited (AOL) is the leading organic industry body representing certifiers and certified operators in Australia. AOL is a not for profit, member owned organisation that advocates on behalf of the certified organic industry by lobbying government and driving awareness.
Established in 1987 and formerly Biological Farmers of Australia (BFA), AOL has been the major force in ensuring organic standards remain robust and are in line with global export markets. Australian Organic owns the Australian Certified Organic Standard (ACOS) and license the 'Bud' certification logo. The most trusted organic logo in Australia, the 'Bud' is recognised by 51% of shoppers and found on over 32,000 products.
What does AOL do?
Australian Organic Limited represents the interests of the organic industry through advocacy and better policymaking. AOL lobbies federal and state government on key policy issues, market access and industry matters to support a prosperous future. In conjunction with driving awareness of certified organics through strategic marketing campaigns and events, providing educational resources, hosting events and forums designed to upskill and add value, AOL also collaborates with Australia's competition regulator to ensure consumers are getting what they paid for.
---
VISIT WEBSITE